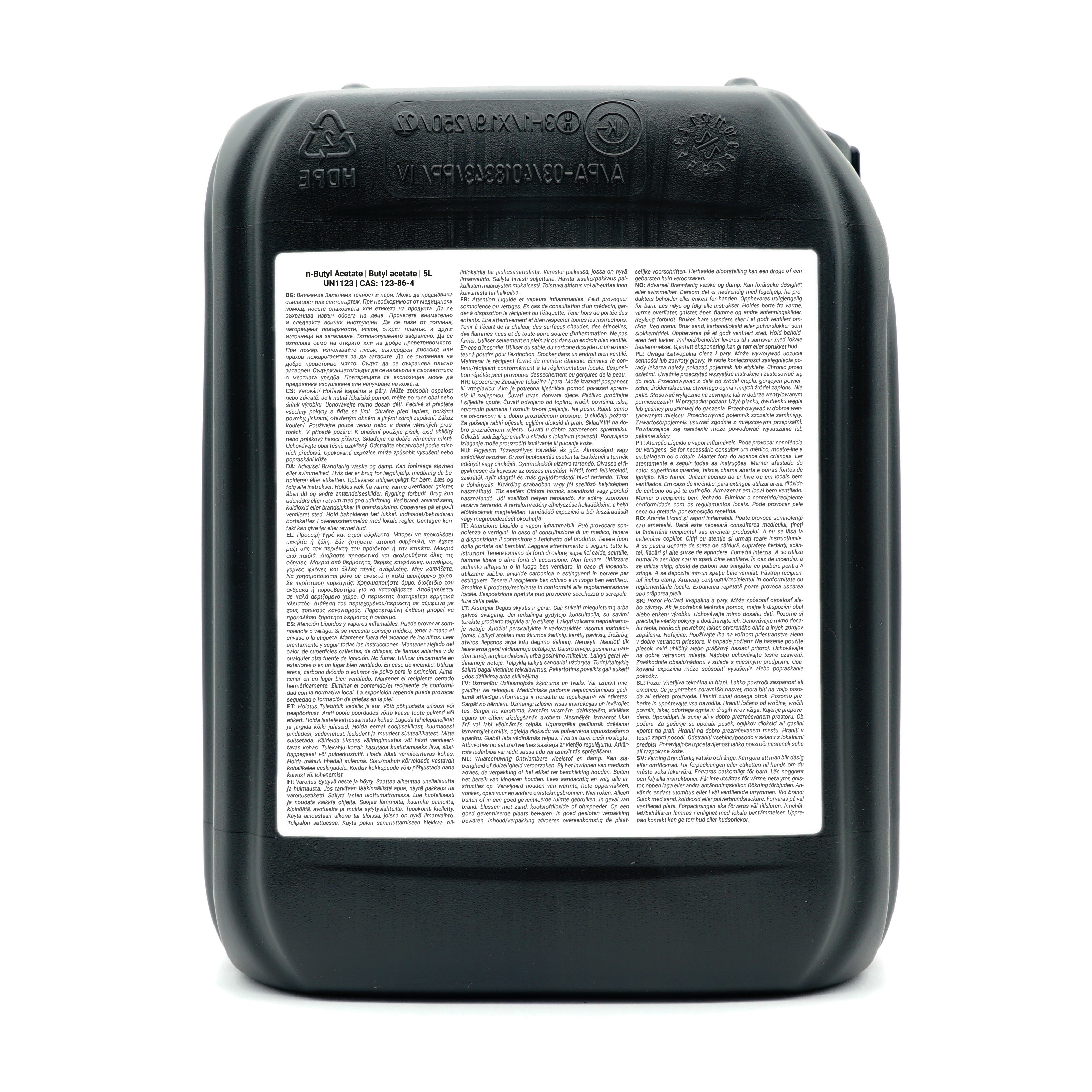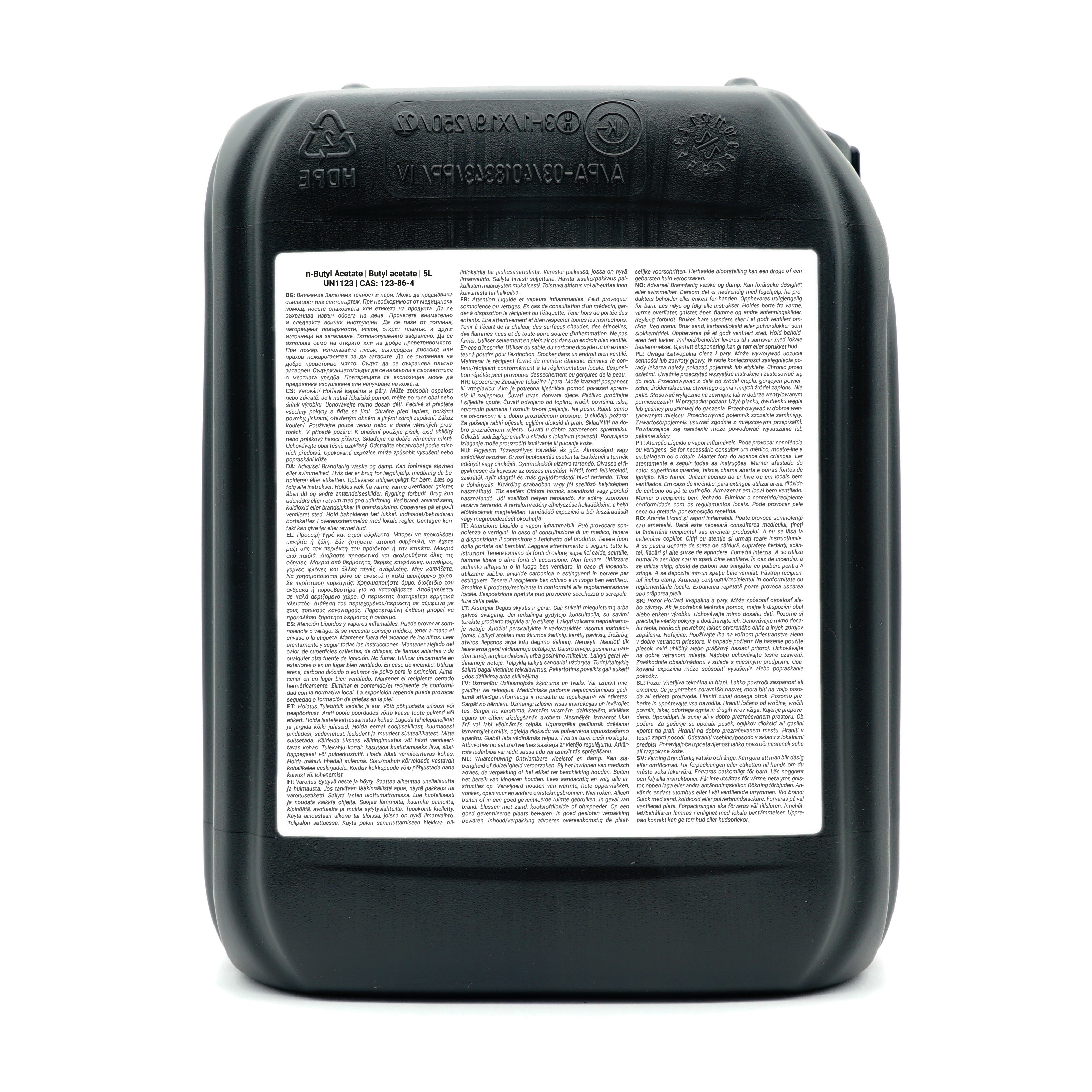 n-Butyl Acetate | 5L
€85.80*
Content:
5 Liter
(€17.16* / 1 Liter)
Available, delivery time: 1-3 days
Short description
n-Butyl Acetate for 3D Printing: Speed up post-processing with this solvent, specifically designed for use with Formlabs Polyurethane Resins PU Rigid 650 & PU Rigid 650. Combine with PGDA Wash Solvent to quickly evaporate residue, ensuring a smooth and efficient workflow.
Product features
Regulatory information
n-Butyl Acetate | 5L compensates CO2-Emissions equal to 10 times its weight. Learn more
Shipping Restrictions
n-Butyl Acetate | 5L is classified as Limited Quantity and can therefore not be shipped to every destination.
No Shipping Restrictions
European Union
Norway
Switzerland
Great Britain
Shipping not possible to the following Countries/Regions
United States
Canada
Australia
Global
Product information "n-Butyl Acetate | 5L"
n-Butyl Acetate is a clear, colorless solvent with a fruity smell that is suitable for the used for speeding up the evaporation rate of PGDA Wash Solvent on 3D-printed parts.
Combine with PGDA Wash Solvent for faster post processing.
Formlabs Polyurethane Materials produce pliable and tough polyurethane parts that can withstand extreme impacts while maintaining true shape long-term. Due to there chemical composition they can only be washed with PGDA Wash Solvent. To speed up the evaporation rate of PGDA wash the part in n-Butyl Acetate.
Recommended and tested quality by Formlabs
3D-Basics is the global Solvent distributer for Formlabs. Purchasing n-Butyl Acetate from 3D-basics ensure maximum compatibility with Formlabs Resin and Machines. n-Butyl Acetate with a purity of ≥ 99% is highly effective at removing uncured resin from Polyurethane 3D-printed Models and help wash of left PGDA Solvent.
How to use n-Butyl Acetate
Always wear Nitrile Gloves when handling n-Butyl Acetate.
n-Butyl Acetate is only tested for use with Formlabs PU Rigid 650 & PU Rigid 650.
This guide is based on washing parts with PGDA Wash Solvent.
n-Butyl Acetate is used in the final step of the process.
For removing uncured Resin from SLA or DLP printed parts fill your cleaning container with the amount specified by the manufacturer. To minimize waste, it is suggested to pre-clean the parts before placing them in the cleaning container to expand the lifespan of your fresh PGDA. This can be done in a separate container with either "dirty" PGDA from previous cleaning cycles. Place the finished print in the cleaning container and clean the parts for at least 2 min or according to the material manufacturers guidelines. After the cleaning cycle, blast the PGDA coated part with compressed air and Wash with n-Butly Acetate to speed up evaporation. Let the model dry and check for a tacky surface, repeat if necessary, till the surface is not tacky anymore. If it is still tacky it might be a sign to replace the PGDA.
Optimal Cleaning stages
Preclean in small container to remove uncured resin and minimize amount of saturated Wash Solvent
First Stage Cleaning: Run Wash cycle in Form Wash with "dirty/used" PGDA Wash Solvent
Second Stage Cleaning: Run Wash cycle in Form Wash with fresh PGDA Wash Solvent. Due due to the prior wash cycles this PGDA can be used for an extended period of time. If performance deteriorates use in first stage.
Final Stage: Remove any PGDA Wash Solvent with compressed air and rinse in n-Butly Acetate to speed up the evaporation of PGDA Wash Solvent.
Advantages of n-Butyl Acetate
Speed up evaporation of PGDA Wash Solvent for faster post processing.
Compatibility
Compatible
Formlabs Wash
Formlabs Wash L
PU Rigid Materials
Not Compatible
other Resins not listed under compatible.
How to store n-Butly Acetate
n-Butyl Acetate is flammable and should be stored under appropriate conditions. Ensure to follow local regulations regarding quantity and storage conditions. In General n-Butyl Acetate should be stored cool and dry away from sunlight, sparks and ignition sources
Disposal of n-Butly Acetate
n-Butly Acetate and container as well as rinsing water need to be disposed of at an appropriate waste treatment site. Please check local regulations.
Labeling according to Regulation (EG) Nr. 1272/2008 (CLP)
Signal Word
Warning
UN Number
1123
Hazard Statements
H226 - Flammable liquid and vapour. H336 - May cause drowsiness or dizziness.
Precautionary Statements
P101 - If medical advice is needed, have product container or label at hand. P102 - Keep out of reach of children. P103 - Read carefully and follow all instructions. P210 - Keep away from heat, hot surfaces, sparks, open flames and other ignition sources. No smoking. P271 - Use only outdoors or in a well-ventilated area. P370+P378 - In case of fire: Use sand, carbon dioxide or powder extinguisher to extinguish. P403+P233 - Store in a well-ventilated place. Keep container tightly closed. P501 - Dispose of contents/container in accordance with local/regional/national/international regulations.
Supplemental hazard information
EUH066 - Repeated exposure may cause skin dryness or cracking.
Technical Data
| | |
| --- | --- |
| Purity | ≥99 % |
| Chemical name | n-Butyl Acetate |
| CAS Number | 123-86-4 |
| Gravity | 0.88 g/cm³ (25°C) |
| VOC Content | 100 % |
Supplemental information
| | |
| --- | --- |
| Tariff Code | 2915 3300 |
| Country of Origin | Austria |
| Product weight | 4.41 kg |
| Shelf Life | 12 Months |
| Shipping weight | 4.48 kg |
| Packaging Dimensions | 195 x 135 x 240 mm |
| Shipping Restrictions | Limited Quantity |
| SKU | 320113 |
| EAN Code | 9120078083697 |
Download Section
Productimages