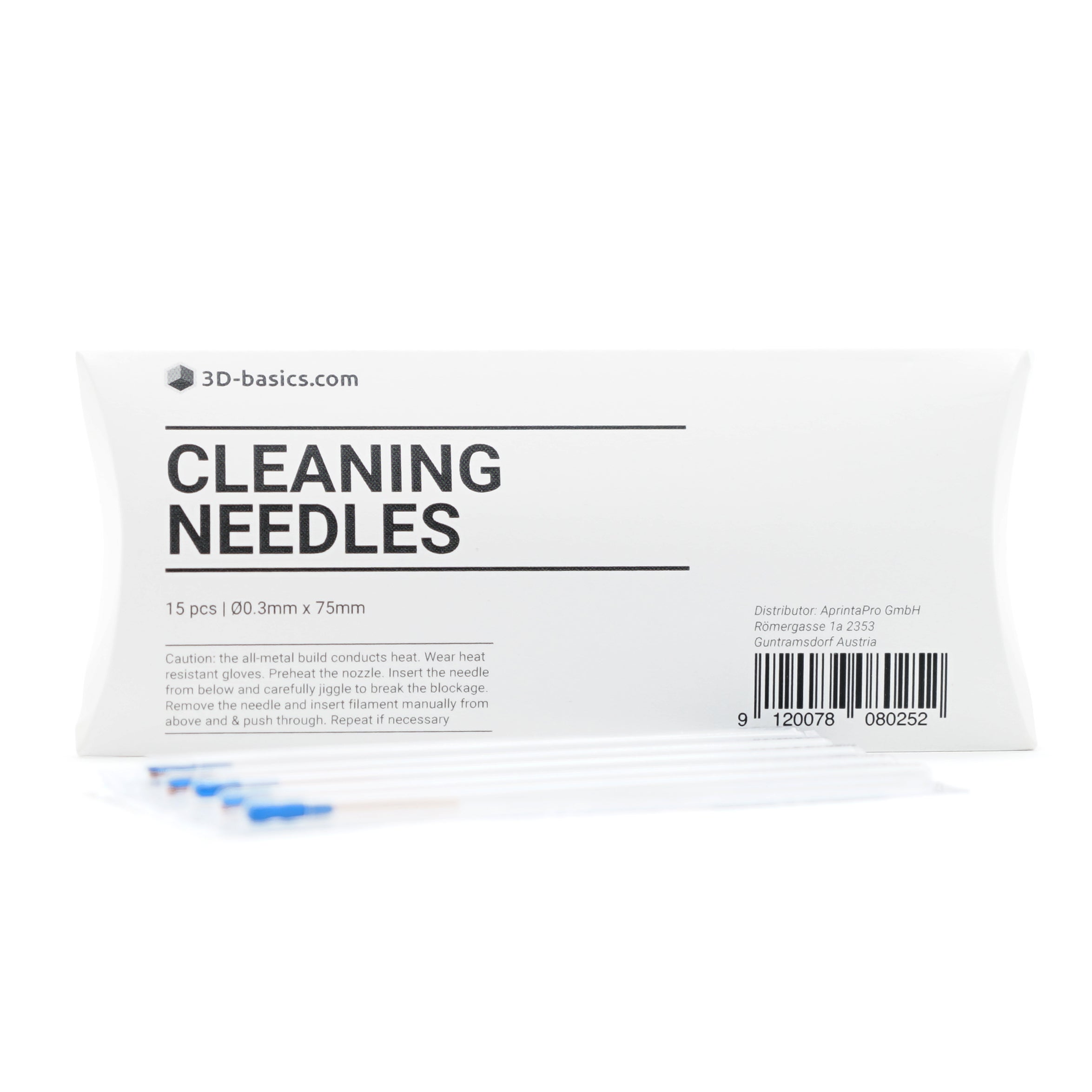 Cleaningneedles | 0.3 x 75mm - 15x
Available, delivery time: 1-3 days
Short description
Unclog 3D printer nozzles effortlessly with these sharp, flexible, full-metal needles. Designed for durability and heat resistance, they maintain print quality by eliminating blockages caused by impurities. Each needle is individually packed for safe storage. Don't let clogs compromise your prints!
Product features
Cleaningneedles | 0.3 x 75mm - 15x compensates CO2-Emissions equal to 10 times its weight. Learn more
Product information "Cleaningneedles | 0.3 x 75mm - 15x"
The sharp, flexible needle makes loosening clogged nozzles easy and effortless. Due to impurities, dust or particles that enter the nozzle small blockages can occur. The nozzle burns the particles on the metal changing the diameter of the nozzle by a bit which can result in a different amount of filament being extruded than what is necessary or calculated by the slicer. Regular cleaning of the nozzle will keep 3D-Print Quality high.
Full metal build
The full metal build has multiple advantages, it is more sturdy and reliable then part plastic cleaning needles. It cannot melt when in contact with the nozzle but it conducts heat therefor it is necessary to wear heat isolating gloves.
15 Needles individually packed for storage and safekeeping
Every Cleaning Needle is individually packed inside a plastic tube to minimize the risk of accidents. The box out of cardbord can function as a storage box to always have them at hand when needed.
The all metal build conducts heat therefor it is necessary to wear heat resistant gloves.
How to use Cleaning Needles
To remove a blockage with the needle method, an acupuncture or injection needle is required. The size of the needle must be small enough to fit inside the nozzle. With a standard diameter of 0.4 mm, the 0.3 mm needle works perfectly.
Preheat the nozzle to normal printing temperature for the last material used. Be careful, the nozzle is hot and the all-metal construction of the needle conducts heat well. The goal is to loosen the clog and clean the nozzle.
Insert the needle from below and gently move it around. Then remove the needle and manually insert the filament from above and push it through.
If the blockage has not yet cleared, repeat the steps. If this method doesn't work, the cold drawing method is an alternative.
Use Cleaning Needles regular to clean the nozzle to maintain print quality.
Advantages of Cleaning Needles
All metal build gets the job done with ease
Good practice for maintenance.
Compatibility
Compatible
Nozzles with a Diameter ≥ 0.35mm
Disposal of Cleaning Needles
Cleaning Needles should be stored in a puncture-proof container (e.g. a sturdy used Resin Bottle) and disposed at a special waste collection site.